NJ Liquor Store Gains Office Space in Tight Warehouse Area
Challange: Roger Wilco, a large liquor store in Pennsauken, New Jerse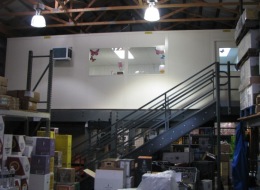 y, needed additional office space for management in their warehouse area. Unfortunately, they lacked the necessary office space on the floor of their warehouse. Space was very tight, but a solution was needed.
Roger Wilco decided to contact The Modular Office Company to help provide the necessary space for offices in their warehouse.
Solution: The Modular Office Company made a site visit and proposed that Roger Wilco could create an office space above the floor of the warehouse by putting a modular office on top of a mezzanine. That way, they wouldn't have to lose their valuable floor space that they used for inventory.
Roger Wilco decided to proceed with the project and The Modular Office Company designed, provided, and installed a custom designed modular office and mezzanine.
The design and installation was particularly difficult because it had to work around obstacles on the floor and fit precisely into a tight space and be installed without any interruption to warehouse operations,
In the end, Roger Wilco was very satisfied with the 336 square feet of office space that they gained.uo