The Modular Office Company is a nationwide material handling service provider specializing in the design, manufacturing, and installation of modular offices.
Over 30 years of experience allows us to provide you with the knowledge of an industry veteran while giving the individualized attention only a small business like ours can offer.
Our modular offices are a time, space, and financially sound alternative to the expensive cost of typical construction. These structures meet the need for additional warehouse space that is essential to the growth of a business.
We invite you to explore our company's website to learn about our modular offices.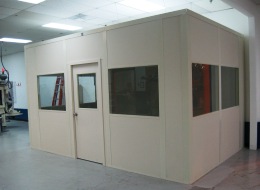 On our website, you can:
Request a Free Quote
Read Our Success Stories
View Modular Office Photos
And Much More….
Our Modular Office Experts are equipped with the necessary knowledge to help you design a modular system that meets your needs. We have helped many clients increase office space and avoid a costly move with the use of modular offices.
Contact us to learn more about how our modular offices can provide the office space you've been looking for. We look forward to the opportunity of working with you. Our professional, knowledgeable and friendly staff at The Modular Office Company is ready to help you with your material handling needs.